We are building inside/outside grassroots power all across the state!
Jerry Greenfield Ben and Jerry's Co-Founder
"

"I am pleased to join Rights and Democracy in endorsing Brenda Siegel for Lieutenant Governor of Vermont. Brenda is a fighter for justice, and that is the kind of person that Vermonters need representing them in Montpelier."
---
Kiah Morris Movement Politics Director, Rights & Democracy, Former State Representative.
"

"Brenda is ready to lead in the office of the Lieutenant Governor and brings direct experience and deep connectivity to the issues and lived experiences of our most vulnerable Vermonters. Brenda is the candidate for the people who will fight for the people. I am pleased to lift up our endorsement of her for this crucial office. "
---
Christine Hallquist 2018 Democratic Nominee For Governor
"

"Today I voted for Brenda Siegal for Lieutenant Governor. The reason for that vote is Vermont is in a crisis along with the rest of our country. This crisis goes beyond the current pandemic. It is a crisis of wealth disparity. According to the Credit Suisse Annual Wealth Report, the US has the greatest wealth disparity in the world. The massive transfer of wealth to the top 1% of our country started in the 1980's. It has now amplified the suffering of Vermonters and Americans during this pandemic. America and Vermont has one of the worst and most expensive health care systems in the world. Medicare for All would cut health care costs in ½. Some who read this will think this is socialist rhetoric. On the contrary, what I am talking about is good business sense. America has fallen due to our lack of investments. We invested twice what we are investing today in our infrastructure in the 1960's. Some things are better socialized We know that is true as we have done that with roads and bridges. Socializing road and bridges, education, broadband back-haul and last mile infrastructure for rural communities spurs economic activity. Massive imbalance in wealth leads to failures in democracy and loss of faith in government institutions. We have become seriously imbalanced and we need correction. The current anti-democratic rhetoric coming from the right is just that, false rhetoric. I still have faith in our democracy. We will rebuild into a better Vermont and a better America. Equal representation is an important foundation for a healthy democracy. Brenda is a voice for the voice-less. I developed respect for her during my gubernatorial campaign for her tireless fight for those in need. Right now Brenda is an important voice that is needed in Montpelier."
---
---
Grassroots Orgs
Rights & Democracy Grassroots Organization
"

"Brenda has been a longtime member of Rights & Democracy and is a tireless advocate for working families and the most vulnerable people in our communities. She understands that democracy is much bigger than electing people to office, but we need to make it possible for our communities to participate, to be informed on what's happening and to be making their voices heard about policies that impact them. We are proud to endorse Brenda Siegel for Lieutenant Governor of Vermont."- James Haslam, Executive Director of Rights & Democracy
---
People's Action Grassroots Advocacy Organization
"

People's Action ENDORSEMENT! is a candidate for Lieutenant Governor of Vermont. She is running to build a path forward for marginalized and forgotten voices to have a seat at the table with equal voice and equal power.
---
"

Sunrise Middlebury is proud to endorse Brenda Siegel for Vermont Lieutenant Governor! Brenda is a long term advocate for social and climate justice, and she plans to make a pathway for unheard voices to advocate and have a place at the table. She truly embodies the values we aim to support at Sunrise Middlebury. Stay tuned for our press release tomorrow for more information about this exciting endorsement!
---
Progressives For Democracy In America PDA
"

"It is rare to be able to sing the praises of a candidate so wholeheartedly, but Brenda Siegel is unique. First of all, Brenda does not fit the profile of the average candidate for higher office - not only is she a single working mother, but she is low income and experiences financial struggle and has throughout the last 18 years. American politics seemingly exists to exclude people like Brenda from running for office. Part of what makes Brenda so special is not merely that she bucks the odds and throws her hat in the ring, but that she does so explicitly so that more people like her will do the same. Why is this essential? Because while it is one thing to promote progressive social and economic policies, it's another to do so knowing first-hand the advantage they bring to real people's lives. We need Brenda to win for Lieutenant Governor, so that more people like Brenda run for similar offices - across Vermont and across the country."
---
Champlain Valley Democratic Socialists Of America Democratic Socialists Of America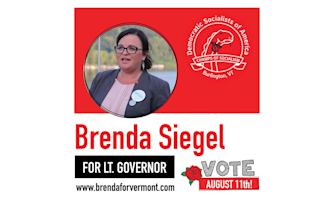 ---
---
Elected Leaders
Representative Mari Cordes Representative, Addison 4
"

"I'm pleased to endorse Brenda Siegel for Lieutenant Governor of Vermont. She is a courageous sister in movement building who boldly demonstrates her conviction to build a Vermont for everyone. She has spent her life as a an organizer and community leader. Brenda's tenacity, experience and capacity to ensure inclusion of the lived experiences of all Vermonters makes her the right choice for Lieutenant Governor." Representative Mari Cordes, Addison 4
---
Representative Hal Colston Representative Chittenden 6-7
"

"Brenda Siegel personifies leadership defined as the ability to cope with change as well as having a keen sense of anticipating Vermont's challenges of tomorrow.  Her passion is contagious to make Vermont an equitable place for ALL.  We need Brenda Siegel to be the next Vermont Lieutenant Governor!" - Representative Hal Colston, Chittenden 6-7 & Winooski City Councilor
---
Representative Will Notte Representative, Rutland 5-4
"

"Brenda Siegel would be a revelation as Vermont's Lieutenant Governor. A single mother who has faced financial hardships, Brenda would bring a real world practicality to a state government where so many of us operate with hypotheticals. In my two years in office I have gotten to know Brenda as a passionate advocate for working Vermonters, for social equity and justice, and for those struggling with addiction issues. Brenda is a persistent champion of undervalued, forgotten, and ignored Vermonters. As Lieutenant Governor she would give voice to many Vermonters whose marginalization has meant a dangerous underrepresentation in a government meant to serve all. This is why I will be voting for Brenda Siegel for Lieutenant Governor in the Democratic primary and why I strongly urge others to do the same. Especially given the immense challenges the COVID pandemic has disproportionately brought to already struggling Vermonters, in 2020 we need the change Brenda represents." -Representative Will Notte, Rutland 5-4
---
Representative Coach Kevin Christie Representative Windsor 4-2
"

"I am humbled and honored to endorse Brenda Siegel as candidate for Vermont's next Lieutenant Governor. As the Executive Director and founder of the Southern Vermont Dance Festival, an educator and anti-poverty activist. She brings a high-quality management skill set to this office. Brenda is the Chair of the Newfane Democratic Committee and delegate to the Windham County Committee. She has been heavily involved in politics and activist work, locally, statewide and nationally. Siegel has a life long history of being a community leader. She has spent her career putting forward creative solutions to problems and has been successful sitting down at the table with many different players to implement a strong vision for the future and it is time to take her leadership to the next level. So, it is easy for me to offer my support to become Vermont's next Lieutenant Governor. Rep. "Kevin Coach" Christie, Windsor 4-2
---
Representative Bob Hooper Chittenden 6-1
"

"In Vermont, the job of Lt Governor is a strange one. Largely ceremonial with few defined duties, individuals holding the position need to create their own agenda or fade into the wallpaper during the rushing of day to day politics. The person who holds this position must be driven internally to grab and promote issues that mean things deep in their soul, call attention to issues and advance solutions completely isolated in the bubble of an often forgotten position. I have known Brenda for about two years. The dedication she brings to life and social change is infective. She is quick, dedicated and enthusiastic in her perspective and her approach to challenges. She generates that same response in the people she works with and seeks to help along the road. In Vermont, in the position of Lt Governor, it takes a bright light to shine out and make a statement and a difference for issues that mean something for every day people. Brenda brings that light."
---
Laura Chapman Putney Selectboard Chair
"

"Brenda has proven her organizational and administrative grit, as well as her deep understanding of rebuilding the economy after a crisis, by founding a successful festival with the mission of being a long term economic driver following tropical storm Irene. in her time she has served on local and statewide boards, founded and directed the largest fundraiser at a non profit, as well as chairing the Newfane Democratic Committee and serving as a delegate to the Windham County Democratic Committee. Because of all of this, I enthusiastically endorse Brenda for Lieutenant Governor of Vermont." -Laura Chapman, Chair of Putney Selectboard
---
Nick Clark Thetford Selecboard Chair
"

"I am grateful to endorse Brenda Siegel for Lieutenant Governor. Vermont will continue to fall short on the opioid epidemic, on affordability, on climate action and racial justice, if we do not empower people who have never been empowered. Brenda's tireless commitment, real life experiences, and depth of compassion will bring more Vermonters to the table. Brenda will strengthen Vermont's democracy in a time when challenging solutions demand participation from all of us." -Nick Clark, Thetford Selectboard Interim Chair
---
Brandie Starr Brattleboro Selectboard, Former Chair
"

"For me, endorsing Brenda Siegel for Lieutenant Governor is easy. Brenda is a Democrat with strong progressive values who does not shy away from fighting for progress. Whether seeking real data backed solutions to the overdose crisis, fighting for housing as a human right,  or retaining her role as an outspoken advocate for bold climate action, Brenda has never failed to pull up from the grass roots and step forward on issues that tend to paralyze many of our more traditional leaders. Brenda has my support, endorsement and vote. I'll be watching closely through this election cycle to be sure that people are ready to line up behind real change and progressive issues within the Democratic Party." -Brandie Starr, Chair of Brattleboro Select Board
---
"

"Brenda encapsulates 'by the people and for the people' with an incredible honesty, one that we need more of in our governments. I've come to know Brenda over the past few weeks and am extremely impressed by her clarity, her competence, and her ability to step up and lead with empathy, but also to step back and make room for other voices. I strongly believe in her vision for a united Vermont and am proud to endorse Brenda Siegel for Lieutenant Governor." - Zoraya Hightower, Burlington City Councilor
---
Jane Stromberg Burlington City Councilor
"

Straightforwardness, transparency, and a true dedication to issues Vermonters face each and every day is what to expect from Brenda. Her grassroots approach to producing meaningful change has never been more evident and I trust Brenda to uphold her values as she takes on the great responsibility of this office. If we are serious about having a just economy, strong addictions and recovery programs, and seeing a swift transition to sustainable energy sources, we need to be serious about Brenda as she will get us there."  -Jane Stromberg Burlington City Councilor (ward 8)
---
"

"I believe that, much like the medical professionals who are leading the fight against COVID-19, that those who are on the frontlines of society's problems are the ones who are best equipped to help us fix them. And that is why I am proud to support Brenda Siegel for Lt. Governor. As a single mom, like the one who raised me, Brenda knows first hand where our systems are failing children and parents across the State of Vermont, and has the right ideas on how to steady the ship. She has demonstrated an understanding of Vermont's unique economy as well as what it takes to recover from a crisis, with the creation of the Southern Vermont Dance Festival as an economic driver in Windham County following Tropical Storm Irene. She has shown her dedication to the issues of economic justice and substance use disorder in her advocacy in the Statehouse and across the 14 counties as well as in Washington. In a time when we cannot count on Washington for leadership, we have to elect candidates who are willing to push for big, structural change - and Brenda Siegel is that candidate." -Teddy Waszazak, Barre City Councilor & Movement Leader
---
---
Movement Builders
Ajna Siegel Son
"

"I don't think I really need to endorse my mom, Brenda Siegel, for lieutenant governor, but let me say this... any person who is capable of raising a child by themselves, without enough resources, is more than capable to lead this state, bring people together and hold this position. You can catch me fully supporting my mom on this incredible endeavor." - Ajna Johnathon Siegel, Brenda's Son
---
"

"I support Brenda Siegel for Lieutenant Governor. I'm confident she will use the office to bring Vermonters together and work to bring Vermont in a progressive direction. In addition to working to reverse the climate emergency and fighting for universal healthcare, she supports an effort I have been deeply involved in: the expansion of 21st-century broadband in Vermont to areas where the large incumbent providers won't go. Of all the candidates in the race, I'm most confident in Brenda's ability to serve as our next Lieutenant Governor. Please join me in voting for Brenda on August 11th by writing her in on the Progressive ballot or by voting for her directly on the Democratic ballot." -Jeremy Hansen Associate Professor of Computer Science, Norwich University Chair, CVFiber Governing Board Vermont Progressive Party State Committee
---
Brent Hamlet Fellow with Black Futures Lab and Black to the Future Policy Institute
"

It is my absolute pleasure to offer my full  endorsement of Brenda Siegel for Lieutenant Governor of Vermont! Brenda's unwavering commitment and compassion to Vermont and its people is extraordinary. She dedicates her time regularly toward amplifying the voices of the voiceless, by listening with her whole heart. She is h"onest, engaged and is not afraid of thinking boldly about big ideas and rolling up her sleeves to tackle the many challenges.  This sincerity and dedication will allow Vermont to not only grow but thrive but she knows that she can't do this work alone. She solicits support from those with lived experiences and will keep that energy in office!  She is the kind of Lieutenant Governor that Vermont needs and in these uncertain times, the kind that the state deserves! She will be ready on day one!" -Brent R. Hamlet  Fellow with Black Futures Lab & Black to the Future Policy Institute
---
Ann Zimmerman Activist, Community Organizer
"

"I am happy to be supporting Brenda Siegel for Lieutenant Governor in our upcoming primary. As fellow activists Brenda and I have worked side by side on the economic justice issues of livable wages and paid family and medical leave, on universal healthcare, on immigrant justice and on bold climate action. Brenda has been an outspoken voice for racial justice, for reform of our criminal justice system, and for commonsense, evidence-based policy on opiate use disorder that prioritizes saving lives. I've watched her draw on her own experiences as someone who has struggled economically while raising her son as a single parent and who has experienced tragedy in her own family to emerge as a strong voice on a full range of progressive issues. I also know that Brenda will use this office creatively to bring many more voices into the processes of state government--that she feels deeply the need to bring those most affected by policy into the center of the discussion. Early voting has started, so I hope you'll remember to request your mail-in ballot, and join me in checking the box for Brenda Siegel for Lieutenant Governor." -Ann Zimmerman Community Organizer and Activist
---
Delthea Simmons Author, Social Activist
"

I support Brenda Siegel for Lieutenant Governor of Vermont. She doesn't just hear people, she listens. She doesn't just talk, she converses. She doesn't just greet you, she meets you.  She works and she cares.  Siegel for Lieutenant Governor. She's with you. She's for you. -Delthea Simmons Author and Social Activist
---
Add Your Endorsement